ESPRit online seminar 8 April 2022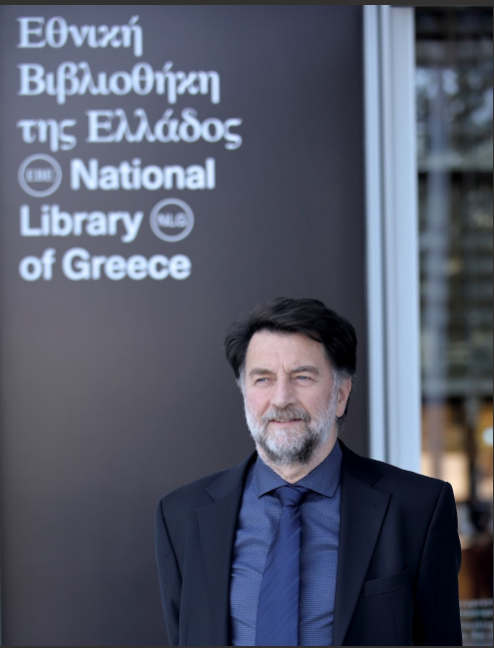 We are very pleased to announce that Dr Filippos Tsimpoglou, General Director of the National Library of Greece will launch the Third ESPRit Online Seminar Series, on the general theme 'Sources Beyond the Periodical Text'. The opening lecture will be held on 8 April, 2022 at 3PM CET via Zoom.
'Expanding the services of the National Library of Greece to researchers, public, libraries, society and next generations'
In 2014 the National Library of Greece started a transformation process with an annual budget of 240.000€, 47 employees as permanent staff, absolutely the smallest among 38 European National Libraries and a total area of about 9.000 sq.m. in three buildings full of printed material. After a period of three years of preparation, the NBE completed the relocation of most of its services to the new premises of the SNFCC, a building donated to the Hellenic Republic by the SNF and home to three different organisations: NLG, NGO and SNFCC.
In eight years, despite the tight and difficult environment of austerity and cost-cutting measures under the Memorandum, the EBE has managed to secure some of the conditions and develop several of the basic infrastructures that characterize a National Library. Thanks to a donation from the SNF and the steady support of the Greek state, its budget reached the average of the national libraries of the "small" European countries (6.700.000€) and its staff was half the average (80 permanent and 75 seconded teachers) located in four buildings of totally 31.000 sq.m..
The NLG, taking advantage of the new modern legislative framework (Law 4452/2017), has submitted the new Management and Operating Organization and drafted the Strategic Plan 2022-2026 that develops three axes of actions of the NLG: a) the completion of all services that are considered crucial for the fulfillment of the mission of a modern national library at levels corresponding to the high position and value recognized over time in Greek civilisation. b) consolidation of the Hellenic Library as the leading library of the country, through actions and support projects for the development of the Hellenic Library Ecosystem at levels corresponding to the development of contemporary Greek culture. c) promotion of the Hellenic Library as an unrivalled centre of support for Hellenic Studies internationally.
Τhe communication presents the panorama of services and actions that the EBE has carried out.
Chair: Professor Aled Jones, historian and former National Librarian of Wales
The event is free and open to anyone interested to attend. Please register here to receive the Zoom link .